Sabra has always been drawn to the rawness and DIY stylings of traditional roots music. First honing her musical chops on electric bass during the 1990's post-punk era with The Nigels, she felt a parallel between these first musical influences and the burgeoning old-time and country music scene she partook in w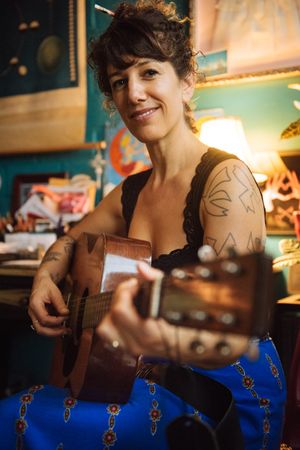 hile living in Portland Oregon in the late 90s, and the San Francisco Bay Area during the early 2000s. While falling in love with The Carter Family and Lefty Frizzell while DJing a country roots music program at Berkeley's KALX in 2002, Sabra took up the guitar and became a part of bands like The Mercury Dimes and The Crooked Jades. Her instrumental and vocal cues are inspired by the likes of Mother Maybelle Carter, The Louvin Brothers, Lydia Mendoza, k.d. Lang, Ray Price, and Jean Shepard. After moving to the Blue Ridge Mountains of Virginia, she co-founded the award-winning old-time band with Chance McCoy (Old Crow Medicine Show) in 2009 and received a coveted first place blue ribbon for Traditional Old Time band at the Clifftop Appalachian Stringband Festival. Upon deciding to move to Lafayette Louisiana in 2015 after having visited for the last ten years, Sabra immediately became involved in the music & art scene of Southwest Louisiana. During Lafayette's summer of 2015, Sabra formed her all-star honky tonk band Sabra & The Get Rights, which has become a staple for the Lafayette & New Orleans' dance floors.
Sabra always brings with her a unique approach and high level of musicianship and is known for her solid guitar and bass skills, her unique vocal stylings, and her captivating stage presence. She has worked with fellow roots musicians such as Cedric Watson, Joel Savoy, Riley Baugus, Dirk Powell, and David Greely, and played upright bass for Mandolin Orange, bass for The Daiquiri Queens, and toured with singer-songwriter-country artist Esther Rose (New Orleans), providing bass and harmonies. She has been featured nationally and internationally at many prestigious venues and festivals, sharing the stage with artists such as Dale Watson, Devil Makes Three, and Pokey LaFarge.
Currently, she is working on her first solo album (releasing Spring/Summer 2022), and while at home in SW Louisiana, she spends time working on Bill Wither bass lines, messing with moody pedals and her electric guitar, and performing with her Latin band, Sabra & her Latin Playboys.